Basic Event Guidelines
REGISTRATION:
The registration fee is $10.00.

Missouri Civil War Reenactors Association (MCWRA) members are exempt from the fee.

All participants must pre-register.

No walk-ons allowed.

COORDINATORS:

Federal (Home Guard): Charles Hoskins, 636-239-2644, choskins1861@yahoo.com

Confederate (Missouri State Guard): Mitch Critel, fahtz1863@hotmail.com, 308-379-3135

Civilian: Silvana Siddali, silvana.siddali@gmail.com, 314-494-7548.

Sutlers: Vivian Murphy, vmurphy@nemr.net, 319-795-3205

Registration forms and fees must be received before the event. Check in at the Store Pavilion upon arrival. The registration table will be open until midnight on Friday. All late arrivals shall check in at their respective headquarters. The registration fee is exclusively for the event insurance, provided by the Missouri Civil War Reenactors Association.

This event is specifically designed for the serious, authentic living historian. All participants must operate under the organizational structure established by the event sponsors. An officer's meeting will be held at 8:00 a.m. on Saturday and Sunday morning at the Store Pavilion. Attendance at the officers meeting is mandatory for all unit commanders to cover scenarios and safety. At this meeting safety rules will be provided to each unit commander. Unit commanders are responsible for ensuring that every participant in their unit is familiar with the safety rules. To protect the participants and spectators, violators of ANY safety rules may be removed immediately from the Athens State Historic Site.

PRESERVATION: There are a number of period buildings in the park in need of stabilization and restoration. There will be a free will collection for preservation at the event.

AUTHENTICITY: All participants are expected to follow the below listed authenticity guidelines for their respective impression. It should go without saying that modern eyeglasses, wristwatches, penny-roll cartridges, Zouave rifles, modern or graniteware cooking gear, modern jewelry and other such anachronisms are strictly prohibited. Contact lenses and modern medication shall be kept out of sight in period appropriate containers.

ARTILLERY: Due to historical considerations, artillery is limited to two full-scale six-pounder guns, representing Kneisley's Black Battery in Missouri State Guard service. Those interested in providing or serving on one of the guns should contact the MSG coordinator for availability of positions.

AMENITIES: Authentic, raw foodstuffs will be provided for all meals from Saturday breakfast through Sunday lunch. Local civic groups will also sell concessions at the shelter. In addition, straw, firewood, water and sanitary facilities will be provided.

WEATHER AND INSECTS: Missouri in August is hot and humid. Expect 90+ degrees during the day and 70-80 degrees at night. Drink water at every opportunity and carry a canteen.

CAMPING: ALL camping will be in authentic Union, Confederate or civilian camps. Although there are modern camping areas within the park that one may utilize, it will not be allowed within the confines of the event. See park website for more information.

PARKING: There is ample parking near the event area. No cars allowed in camp.
Authenticity Guidelines

The Battle of Athens at the Athens State Historic Site is an invitation only event. Groups and individuals requesting and accepting an invitation are stating that they will follow the guidelines for their respective impression. Please note that certain items are listed as prohibited or unacceptable. Anyone with any these items will be asked to replace them or they will not be allowed to participate in the event. The goal is not to exclude individuals or organizations, but rather to insure that all participants are willing to cooperate in delivering a high-quality interpretive event for the public, park and participants.

Every choice the event participant will make should be made with the occupation, social class and age of the person they want to portray for the event. Period hair and facial hair styles are optional but strongly encouraged. Look to identified period photographs for examples. In all of the following categories attention to details of original documented articles and equipment is needed. An authenticity and weapons inspection will be held in each camp on Saturday morning by the event's Authenticity Board. The Authenticity Board will have the final say on impressions and weapons. The inspection is not intended to prevent anyone from participating in the event; rather, it is to ensure that all participants' impressions and gear follow the guidelines so that the event is as authentic as possible for both spectators and the living historians. If any problem items are identified by the Board, the first course of action will be to request that the item be removed or replaced. Only in the event that such a request by the Board is refused will the participant be given the opportunity to become a spectator for the weekend rather than a participant by the Missouri Department of Natural Resources staff. Pictures have been attached to this set of guidelines in order to help participants further their impressions specifically for Athens. If at anytime you have a question about a specific item or just need impression guidance, please do not hesitate to contact your respective coordinator.

Federal (Home Guard) Guidelines

All Federal troops will portray companies of David Moore's 1st Northeast Missouri Regiment of Home Guards. These volunteers were the epitome of "citizen soldiers," arming and equipping themselves from home, until receiving arms and accouterments from the government in late July.

CLOTHING

Headgear

Slouch hat, including bee hives and pork pies

Straw hat

Other: Period appropriate, but uncommon in this region

Top hat

Mechanic's hat

Mexican War wheel hat

UNACCEPTABLE: Other Civil War military hats, i.e., kepis, forage caps, dress hats.

Shirts & Underclothes: Civilian style

Trousers: Civilian style

Vest: Civilian pattern, single or double-breasted

Coats:

Civilian frockcoat, paletot, or tailcoat, single or double-breasted in wool broadcloth, jean or linen.

Civilian sack coat in wool, jean or linen.

Overshirt in wool flannel, linsey-woolsey, cotton or linen.

Footwear: Civilian boots or shoes preferred, but military models acceptable.

EQUIPMENT

Weapons

Long-Arms: Model 1842 or earlier conversion, 1855 or 1861 Springfield or civilian weapon (i.e., shotguns, rifles). UNACCEPTABLE: Enfields, repeating arms, i.e., Henry, Spencer (although period appropriate, these arms would be extremely rare among the farmers of Northeast Missouri).

Edged:

Bayonet for military weapon

Side knives, Bowie, hunting or otherwise.

Swords (officers and mounted troops)

NOTE: Edged weapons shall not be drawn on the field except for officers, mounted troops and the scripted bayonet charge by the Home Guard.

Pistols: Muzzle-loading percussion or flintlock, civilian or military models. Pre-1860 revolvers (No Walkers, Patterson's or other obscure models).

Artillery: None, the Home Guard did not have cannon at Athens.

Accouterments: Standard M1855/61 or earlier federal issue; leather shot bags and powder horns, pre-1850's military accouterments (NOTE: Powder horns may only be carried for display without live powder. Only rolled cartridge are to be used in the battle scenarios and firing demonstrations).

Personal and Camp Equipage

Haversack: White cotton or linen, if carried at all.

Canteens:

Preferred: tin drum, wood drum, bottle, or gourd.

Acceptable: Pattern 1858 U.S.

Blankets: Civilian blanket, coverlet or period pattern quilt.

Tentage: None. Canvas flies or wagon tarps, oilcloths, and painted ground cloths only. Rubberized gum blankets and ponchos are to be used only as an item of last resort in the event of severe rain.

Cookware and Utensils: Any period civilian styles. Tin, copper, cast iron, ironstone, etc…

Mounted Units: Cos. B, C, and D of the 1st NE Mo. Home Guard were mounted infantry. They acted as a mounted picket before the battle, fought dismounted during it, and pursued the enemy after. Coggins papers and USDA travel papers (out of state horses only) will be inspected by uniformed agents of the Missouri Department of Agriculture.

Confederate (Missouri State Guard) Authenticity Guidelines

1st Cavalry Regiment, 2nd Division, Missouri State Guard

Commanding Officer: Mitch Critel; fahtz1863@hotmail.com; 308-379-3135

Adjutant: Jay Stevens

Companies:

Monticello Grays

Canton Guards

Lewis County Company

Background:

Our goal will be to accurately portray the actions between the 1st Northeast Home Guard under Colonel David Moore, and the 1st Cavalry Regiment 2nd Division, Missouri State Guard under Colonel Martin Green in the summer of 1861. The guidelines presented herein are the product of numerous historians and many years of research. All have been consulted and checked against other histories and are presented as the best possible choice. In all of the following categories attention to details of original documented articles and equipment is needed.

The men who made up the Missouri State Guard in the northeastern counties of Missouri were predominantly farmers and small townsmen. All were capable of riding a horse. Nearly all carried a weapon of sorts, refer to weapons section for further details. The men would have all been dressed in typical civilian clothing representative of their social class, occupation and age. Keeping in mind most men were farmers, accounts of the state guard point to the abundance of walnut dyed cloth in the ranks throughout the years of service. The companies these men formed were individual militias from the county or community they lived in. They would have lived, worked and socialized with their comrades in arms.

Military protocol was lax at best in the ranks of these militias. Although other regiments in the Missouri State Guard were well versed in the drill manuals of the military, the 2nd division was more of a social club than it was a militia for defense. This is not to say that the regiment was a rambling hoard of men. They would still march or ride in groups, turn in line and fight in long lines using cover when they could.

The men of the 1st Cavalry were a mounted unit. However for the battle at Athens they dismounted and left their horses in the rear. For our purposes we will move as a dismounted group. It is encouraged that you research period horses and horse equipment to give you a better understanding of what these men went through on a daily basis. Likewise, any gear a horseman would take with him off his horse will be carried into battle.

GUIDELINES:

If at anytime you have a question about a specific item or just need impression guidance, please do not hesitate to contact Mitch Critel; fahtz1863@hotmail.com, 308-379-3135.

Head Gear:

Slouch Hats

Bee Hives

Pork Pies

Straw Hats

Limited Numbers:

Top hats, Mechanics Caps, and other documented hat styles.

Outerwear:

Coats: Sack Coats

Frock Coats

Paletots

Overshirts: Typical colors include: red, grey, brown, green, and subdued plaid. Material should be of wool flannel, heavy linen or cotton

Trousers: Civilian pattern trousers only.

Shirt & Under Garments:

Shirts: Period Prints, Stripes, and Solids Only.

Under Garments: Period undergarments are highly suggested.

Vests: Optional, Single and Double Breasted Civilian Styles Only!

Boots: Documentation points to the prevalence of boots among farmers in Missouri at this time. However due to the large financial investment of a good quality pair of boots, brogans, bootees, and other documented civilian shoe styles will be accepted in the ranks.

Equipment:

Accouterments: Shot pouches, powder horns and flasks, belts, hunting or carpet bags and other equipment must all be of documented construction and materials. Powder flasks and shot pouches will NOT be FILLED. Blank paper cartridge ammunition will be the only means of loading and firing weapons. Various accounts of the Guard illustrate the lack of proper cartridge boxes, quoting the use of vest and trouser pockets and cloth bags to carry ammunition in. All military equipment must be of a dated pattern BEFORE 1860.

Canteens: Due to safety concerns, a canteen or water source must be carried by each man in the ranks. While documentation shows the men at Athens carried very few canteens, we will be departing history on this point. Possible options include; wooden canteens, tin drum canteens gourds made into canteens, bottles with slings, and anything that can hold water and also be carried on the move.

Blankets: Civilian panel, coverlets, quilts, scraps of carpet are all documented items carried, however need to be of a documented pattern, construction and material. Painted floor cloths are encouraged and acceptable if of period pattern and construction.

Eating Equipage: Civilian china, earth ware, and other period eating equipment will be accepted.

Weapons:

If no appropriate weapon can be acquired please notify your company commander to have one assigned to you for the weekend.

Long Arms:

Squirrel and deer rifles

Shotguns and fowling pieces

Pre-1842 pattern Military Weapon

M1842 Musket; ONLY IF NO OTHER WEAPON CAN BE HAD!

Note: Both flintlock or percussion weapons will be accepted, however if you choose to bring a flintlock weapon, notify your company commander or the officer in charge during registration.

Pistols: Optional

Revolvers-steel back strap (Keep in mind that M1860 Army Colts would presumably have not been widely in use at the Battle of Athens, and M1851 Navy and Dragoon models would have been a relatively expensive luxury for a Missouri farmer in 1861)

Derringer or single barrel

Documentation points to pistols often being carried in the belt line of the trousers.

However for safety purposes NO LOADED PISTOLS may be carried in this fashion.

Knives:

Long knives

Belt Knives

Note: With the exception of officers' and NCOs' sabers, no knives will be drawn from a sheath or scabbard during the battle reenactments. These are for show only and for use in camp. Folding pocket knives used for repair purposes in the field are obviously OK.

Miscellaneous:

Spurs are encouraged but must be period correct.

Personal items are encouraged part to your impression for maximum benefit in interacting with and educating spectators. Items such as pocket watches, dominoes, cards, dice, journals, books, bottles and other things the average male of the period would have carried with them would be acceptable so long as they are documented to 1861 and were available in rural parts of Missouri.

Axes, shovels, horse tack and rope are also requested camp items.

Notes:

This section is provided to give a taste of period observations and modern scholarship about the Missouri State Guard during the summer months of 1861. For further reading please consult the works cited after each quotation.

"A flag raised over the court house by Colonel Martin Green at Macon was remembered as consisting of three stripes with fifteen stars without further description."

Sterling Price's Lieutenants p. 304

"The Missouri State Guard…did not have sufficient time or the necessary funding to manufacture the standard uniforms prescribed by statute"

Sterling Price's Lieutenants p. 306

"Brown Jeans with a red calico stripe one-inch wide on the outside seam", in reference to the uniform of the Bolivar Company.

Sterling Price's Lieutenants p. 307

"[Private Richard] Hubbell took a silver mounted Mississippi rifle which had been presented to his uncle for heroism in the Mexican War. He also borrowed a flintlock pistol…Having no holster, he simply tucked the pistol into the waistband of his pants."

Sterling Price's Lieutenants p. 309

"A motley crew of men and boys, armed with shotguns, old flintlock rifles, smoothbore muskets…"

Sterling Price's Lieutenants p. 309

"Private Richard Hubbell carried bullets in one vest pocket, powder in another, and percussion caps in a third. One State Guardsman said his company was given a cloth bag filled with buckshot, and told to "pour in a handful" before firing."

Sterling Price's Lieutenants p. 310

"The guard was described by a federal solider at Carthage as having "no uniforms, being entirely clad in the homespun butternut jeans worn by every Missouri farmer in those days."

Sterling Price's Lieutenants p. 311

I.M. Walters was under Martin Green during the battle of Athens and recalls the following; "A more motley aggregation of white men and boys than accompanied General Green on that occasion was probably never collected together on this earth. They ranged in age probably from twelve to seventy-five or eighty years old. The mixture of apparel and appearance was something wonderful to behold. Some were barefoot, many in their shirt sleeves only, and a few without headgear of any kind. Nearly all had horses, but many had no saddles, and some did not even have bridles, but guided their horses with plain rope halters." horses with plain rope halters."

Keokuk Weekly Gate City, March 29, 1900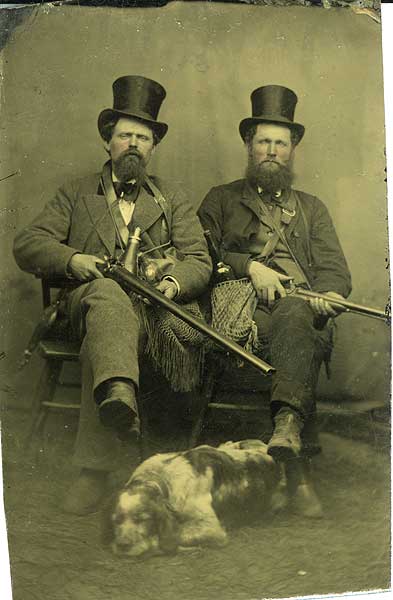 From private collection – Bird dog is not required part of kit at Athens 2008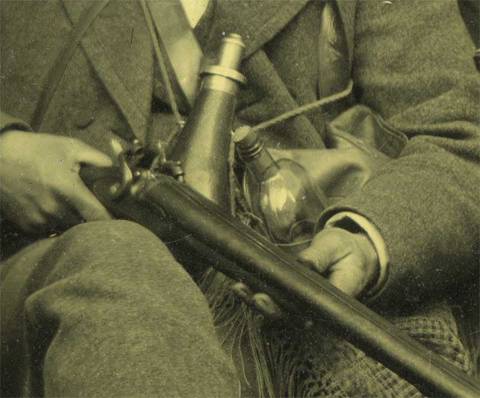 Detail of pervious image. From private collection.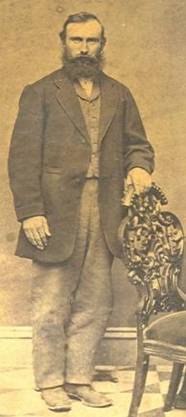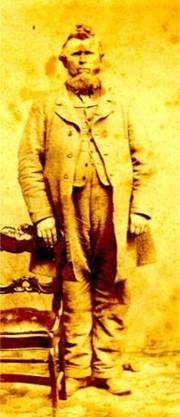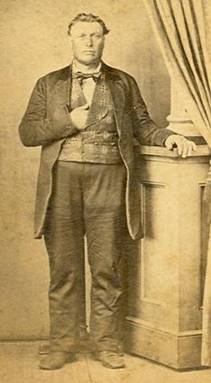 All images on this page are from documented local photographers. From private collection.
Civilian Authenticity Guidelines
All civilians are asked to represent citizens of the town of Athens and the surrounding area. Most of these were farmers and their families. There was a smattering of other occupations: professionals, blacksmiths, storeowners, mill workers and others. This is a rural area, far removed from any fashion centers. Dress appropriately for 'your' socioeconomic level in practical, everyday clothing. All civilian clothing must be made of period pattern and construction techniques.

Women
Basics:
Chemise
Drawers
Corset (or corded corset, depending on your impression)
Cage Crinoline - Modest crinoline, depending on your body type. Most hoops should not exceed 120-125" and for most women a 90" to 100" crinoline will be sufficient. One way to figure this out is by multiplying your height times a percentage between 40%-60% times 3.14. For example: I'm 5'5" so this is what I would do to figure out my hoop skirt circumference: 65" x 45% x 3.14 = 92" circumference (You also have to take your weight into account. If you are confused, I'd be happy to help you figure out the correct size for your figure.)
Petticoats - You will want at least one petticoat to go over your crinoline. These were usually made out of white cotton. A small under petticoat can also be useful.
White cotton stockings (these are best if they are long enough to go above the knee)
Garters (The little elastic tubes are not correct. You will get more service from garters that have a buckle on the side. Reproductions are usually made with cotton elastic and adjustable buckles. Period garters were also made of silk covered elastic.)
Shoes -You can take a look at some originals here that will give you an idea of appropriate footwear. (

http://www.thegracefullady.com/civilwargowns/originals_accessories.htm

) The best reproductions available today are sold by Robert Land (

http://www.robertlandhistoricshoes.com

) and you can purchase these online.
Dress:

Dress details: Piping should be very narrow (about 1/16") and should run along neck, waist, and armscyes (armholes). Please don't pipe the back seams, and don't make the piping of a contrasting color. Skirt lengths should be short enough to permit walking (this is usually a few inches off the ground when worn over a crinoline). Skirts should be pleated or gauged to the bodice at the waist. Ideally the dress would be a gathered-front bodice (if in cotton) with bishop or coat sleeves. Or dresses can be made of silk or wool and in this case the bodice could either be darted or gathered/pleated at the waist. You might consider wearing a dress made of a very light or sheer fabric for this event. It will probably be very hot and muggy at this time of the year. If you plan to wear a cotton dress, pagoda sleeves are not appropriate. Please, no modern trimmings (such as modern gros grain ribbons, for example) and no synthetic fibers anywhere. Synthetic fibers are not only incorrect, they're dangerous near open fires (plus it will act as an oven and you'll find your body suffocating in the heat). There is no evidence that Missouri women wore a separate blouse-and-skirt combination. Please be sure that if you are wearing a printed cotton dress, that it is of a documented print. If you have questions about appropriate fabric, please be sure to ask us. We're always happy to help! :)

Accessories: White cotton or linen neck kerchiefs or collars; white cotton or linen cuffs or undersleeves. Please, only period appropriate jewelry if worn.
All women must bring a silk bonnet, or period reproduction straw bonnet, slat or corded sunbonnet. Older ladies might wear a plain white linen cap (of the correct century) but please, no nylon lace-style dressy caps and no straw hats. And please, NO snoods or headgear from other centuries. Accurate reproduction hairnets made of fine thread and decorated with ribbon are welcome. You will need an apron or two, in documented colors and fabrics, as well as large handkerchiefs.
Hair: All women must wear a period-appropriate hair style: center parted, dressed flat to the head, no bangs, no curls. A small additional bun or braid is acceptable. Please, no makeup. For information on how to do your hair, please take a look at these online tutorials:
http://www.thegracefullady.com/ladiessociety/hair.htm
http://www.gothampatterns.com/hair.html
Youth and Child Guidelines
1. As noted for adults with modifications appropriate to age. Children should wear clothing in documented colors, styles, and fabrics. For example: boat necklines, short sleeves, and calf length skirts are appropriate for girls; short trousers and shirtsleeves for pre-teen boys. Dresses are correct for toddlers. Children's footwear may be purchased laced boots, if speed laces are removed.
2. Because this is a conservative farming area, in general all boys beyond toddler age should wear adult-type clothing.
3. Keep modern infant accessories (i.e. diapers, baby bottles) kept out of sight. No modern toys.
Men: See military guidelines above
Civilian Campsite: Civilians will be in a "period style" campsite. Since there are a limited number of town buildings for civilians to inhabit, we will make due with period tents near the town site. "A" tents or wall-tents are acceptable. However, no modern camping equipment may be in sight (coolers, air mattresses, food wrappers, soda cans, modern lanterns, etc.). This is for the entire weekend, not just while camps are open to spectators.
Civilian Activities: Civilian activities will be set around "stations" established at buildings at different parts of the event site. These buildings are unfurnished. Participants are encouraged to bring furniture items and household goods to use on their "stage." All civilian participants should be willing to engage in some period activity - period food preparation (cooking, butter churning, etc.), handcrafts (sewing, weaving, etc.), trades (blacksmithing, woodworking, printing, etc.), period music, first-person impressions (discussing 1861 current events, telling spectators your story). Make sure any persona or scenario you present to the public is appropriate to the time, place, and mood of the event.
Battle of Athens Bibliography:
Leslie Anders, "Farthest North: The Historian and the Battle of Athens" (Missouri Historical Review, Vol. 65, No. 2, January 1975)
Leslie Anders, "The Twenty-First Missouri: From Home Guard to Union Regiment" (Greenwood Press, Westport Conn. 1975)
Ben F. Dixon, "The Battle of Athens: Fourteen Contemporary Reports," (n.d.), " Martin Green's Boomerang" (1966), and "Farthest North: 1861" (1969)
Kenneth Doud and Alcene Henn, "The Good Old Days: Early History of Northeast Clark County, Missouri" (n.p., 1963)
Goodspeed's "History of Lewis, Clark, Know and Scotland Counties" (St. Louis, 1887)
Hon. George W. McCrary, "The Battle of Athens," in Military Order of the Loyal Legion of the United States, Missouri Commandery, War Papers and Personal Reminiscences (St. Louis, 1892), I, 171.